Prof Harold Thimbleby …


Talking & speaking

Harold believes strongly that public understanding and awareness of technology and the science behind it is crucial for us to benefit from it to the full. He is an ACM Distinguished Speaker.

Harold was the keynote speaker at the "Next Generation Tour," a research workshop that toured New Zealand Universities, inspiring undergraduates to take up research. He regularly runs conferences and workshops.

He has given over 80 conference keynotes and over 500 seminars and presentations (including at Cambridge, MIT, Oxford, Royal Institution, Stanford and the House of Lords) in 31 different countries.

Harold's spoken at ten Edinburgh International Science Festivals, the British Association Annual science festival, Spoleto Festival, TECHFEST, Mumbai, Welsh Eisteddfods, and numerous Science Cafés, etc. Harold and Will Thimbleby exhibited an amazing new calculator at the Royal Society Summer Science Exhibition and at many other exhibitions.

Harold has written memorable advice for giving excellent presentations, which he calls Pirate Talks.

A selection of recent talks:
Here's a selection of other recent talks and lectures:
Improving medicines safety with new technology. Royal Pharmaceutical Society Medicines Safety Symposium
Widespread errors are fixable by better design. National Biomedical and Clinical Engineering Conference
Dependable user interfaces — avoiding computer-provoked human error in medical systems. IEEE International Symposium on Computer-Based Medical Systems
Design out harm — don't design out error. Stanford Research Institute
Safer Health IT. Aspiring to clinical excellence conference, Guild of Healthcare Pharmacists/UK Clinical Pharmacy Association
Blindspots and safer medical systems. DesignMed, Stuttgart
Numbers, numbers everywhere, and none you can trust — not yet! Cardiff Scientific Society
Secrets of research success. Scottish Informatics and Computer Science Alliance
Saving lives with science. Royal Society
Looking beyond human error to its causes. Patient Safety and Clinical Decision Making, Keynote, Royal College of Physicians, Edinburgh
Looking beyond human error to its causes and prevention. Scottish Intensive Care Society Annual Scientific Meeting
Moving from user interface design to interaction programming. MIT
Avoiding designed-in errors in interactive medical devices. University of Cambridge
Thinking out of the Computer Science cargo cult box. Distinguished Lecture Series, St Andrews University
A new sort of calculator. University of California at Berkeley
Mud and maths. Royal Institution
Interaction technology and its impact on science. Department for Environment, Food and Rural Affairs (DEFRA)
Avoiding death by computer. Swansea Science Café
See also Harold's views on undergraduate teaching.
He has been widely interviewed and reported in the media. Harold gives numerous public lectures and school talks. He had the largest post-bag ever for a New Scientist feature article he wrote about video recorders.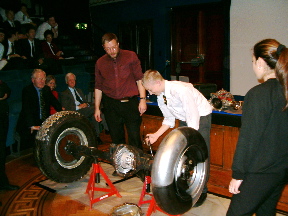 Lecture at the Royal Institution
Getting to grips with maths using a Land Rover differential
— getting the next generation excited
---